Studio for Product Photography In Kolkata
What is Product Photography?
Product photography or e-commerce photography are used on websites and social media platforms which help to sell product or service.  Product photography is any image of a products for sale. It is also known as commercial photography. Images clicked, help to the shoppers to buy the products.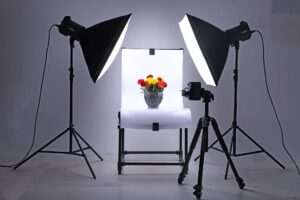 Types of Product Photography in Kolkata
It is known that a product photographer is responsible for clicking photos of products for advertising  and selling purposes. Product photographers work with brands to create images that best represents the product. There are different types of product photography used in business.
Types of Product Photography :-
Product photography is not in one size. Its has different size, color, materials according to the product and brand. Just as your e-commerce store features a number of products and services. Product photos also come in a number of styles. Some are for everyday use, while others are more unique and only used in special cases.
If you want consistency look on your product, it's important to know the difference between each type of product photography and how to click them. In product shoot you have to clear your mind about what you are shooting and how you highlight the product after decoration. Here are some basic things for product photography shoot that you have to know :
1.  Individual shots
One of the most common types of product photos, the individual shot contains only one object in the frame. These are often featured in product catalogs, banner images and throughout product pages to show individual products free from the full collection.
2.  Group shots
You guessed it — group shots showcase more than one product together. For product kits and collections, group photography shows the range and variety of your products. And also gives the customer  more complete view of your offering. These types of images are perfect for social media posts and advertisements. As they give shoppers a taste of your brand as a whole, rather than just one product.
3. Lifestyle Shots
This type of photography is where you get to show your products in action. Lifestyle shots tell the story behind your product and show your customers how they can use them in their daily life. While lifestyle photos can complement individual shots on your product page, they are also perfect for social media, emails, ads and other visual channels, because they catch the eye and make your products feel more personal.
4. Scale shots
A common problem with shopping online is not being able to gauge the exact size of a product. While product items may list the aspect of an item. Product photos can be false. But with scale shots, you can help your customers get a better idea of the exact size of a product by comparing it with other everyday items. This will help customers know the products and increase their confidence when purchasing online.
5. Detailed shots
For products with small problems that require a solution, including jewelry and other small items. Detailed shots help focus particular product features that a traditional photo might not catch. This type of photography often needs specific light and camera settings, such as a macro lens, to click those delicate shots.
7. Packaging shots
Believe it or not, buyers care about packaging. From browsing your website to make a purchase and receive the product in the mail, buyers need a shopping experience that is easy to understand from start to finish. So, even though you may have an amazing product, if your presentation is not good then your customers might not take interest on your product.
If your product comes with beautiful, branded packaging, then your buyers will be attracted and you can also feature it on your product page to give your buyers a taste of what they need. Packaging shots feature not only the product itself, but also the product packaging, whether it be a box, bag or label.
There are two types of E-commerce Shoot:
1) Clean-cut, white background, product-only images.
2) In-context or lifestyle photos.
Tools to Get Started With Product Photography
Need some tools to for the product photography? Now that you know the process of creating an beautiful product image, it's time to gather the necessary tools. They are :
Shooting Table.
Light Tent.
Studio Lighting.
Tripod
Mobile Grip.
Photo editing software.
Photography guidelines for consistency.
Why Product Photography Increases Conversions
We are visual consumers. If the product is a good quality but the product images does not match that same quality then the customers will notice that.
Your photography represents your product's quality and value as well as your brand image as a whole. If done well, it has the potential to increase conversions and drive sales in the long run. And you should remember few things that is –
High-quality images strengthens every buyer touch point.
Product images are a key element of branding.
When to think to hire a Professional Product Photographer ?
Although you do not need to be an expert to create beautiful product photography, like any DIY project, there may be some restriction.
Of course, professional product photography can get price, but if you have the budget for it, it'll be worth the investment. Here are a couple reasons why:
Professional quality.
Unless you are a skilled photographer, you likely do not have the proper tools and software to get  the high quality photos. The quality of your tools usually measures the quality of your photography and more likely, a professional photographer will come loaded with the best of the best.
A skilled photographer with top-notch tools is a formula to high-quality product photos.
Consistent editing
If you work with the same photographer number of times, they are likely to provide consistency in both quality and style time and time again.
If you are new to photography, without much experience in photo editing software, it may be difficult to recreate the same lighting, color and placement every time, but this is a professional photographer's forte. They will be able to provide you with consistency in brand image and quality, which will hopefully lead to consistency in the buyers who visit your store.
Wrapping Up 
You definitely do not need to execute all of these changes at once. Creating consistent, high-quality product photos is not something that happens overnight, so it may take some trial and error to get the results you want.
Once you are in the swing of things, you will be able to wield your product photography to not only take beautiful product photos, but more importantly, create a well design brand and successful e-commerce business.